SimAssist modules
The SimAssist software has a modular structure. The frame application in the 4base module forms the basis of the entire software, and thereby a framework in which the individual modules and their plug-ins can be used and managed.
This means that the entire project (the creation, opening, saving or export of a given project, for example) is managed at the frame application level. In as far as possible, however, data is worked with directly in the relevant plug-ins, separate from the frame application. This means that plug-ins can be added, removed or updated as desired, without impairing the functionality of the entire software.
Thanks to the modular structure of SimAssist, you can also adapt the software's range of functions specifically to your working method and requirements. The following modules are available:
4base (basic module)
4base is the basic module, which, in addition to the frame application, also offers the basic plug-ins for managing and querying data.
Plug-ins: Database Definition, Table, Pivot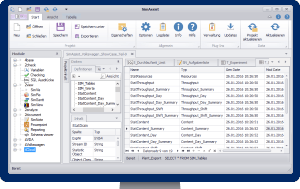 2check
2check provides functions for calling and checking your data in a targeted manner.
Plug-ins: Variables, Checking, SQL Statements
2view
The plug-ins for the 2view module enable data to be visualised and easily evaluated.
Plug-ins: SimPie, SimGantt, SimChart, SimView, SimVis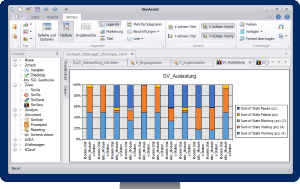 2analyze
To enable data to be analysed individually and efficiently, the 2analyze module provides a series of plug-ins from the field of statistics.
Plug-ins: Categorisation, Confidence Interval, Distribution Fitting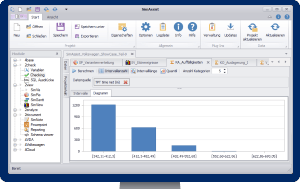 2document
2document is responsible for compiling, forwarding, processing and saving information – ideal for your project documentation needs.
Plug-ins: SimNote, Powerpoint, Reporting, Schema viewer
2calculate
2calculate summarizes formula for different technical systems. This allows a fast overview of planning and corresponding performance characteristics and therewith a better understanding of possible bottlenecks and system limits.
Plug-ins: Monorail, Sorter, Cranes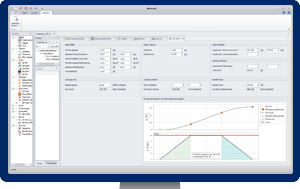 2control
You can use 2control to carry out and manage simulation experiments automatically in a network infrastructure.
Plug-ins: Question, Parameter Control, Experiment Manager